Three children's literacy initiatives got a boost with a Carroll Public Library program Saturday morning, Jan. 14.
The program promoted 1,000 Books Before Kindergarten, 500 Books Before Middle School and Dolly Parton's Imagination Library.
1,000 Books Before Kindergarten and Dolly Parton's Imagination Library are open to infants to 5-year-olds, while 500 Books Before Middle School is for kindergartners through fourth graders.
Children's Librarian Diane Tracy says she's encouraged by signup for the programs. 1,000 Books Before Kindergarten began years ago and is ongoing, while 500 Books Before Middle School and Dolly Parton's Imagination Library are new here.
Tracy reported, "We had about 50 attendees. We signed up 10 kiddos for 1,000 Books Before Kindergarten and 15 for 500 Books Before Middle School. I felt that was pretty good, considering that some of the kids were already signed up for 1,000 Books and other attendees were the parents."
Incentive prizes are offered children for milestone levels of achievement in both 1,000 Books Before Kindergarten and 500 Books Before Middle School.
One family attending the program Saturday was Elizabeth Beers of Breda with daughter Hazel, 2, and son Henry, 3 months.
Elizabeth said, "We just moved to this area this summer, and we're looking for community things to get involved with, so we wanted to get involved with the local library. When they posted they were going to start this, we love to read and we just had to take on another challenge. She (Hazel) loves to read. We read at least two books a day, one in the morning and one at night."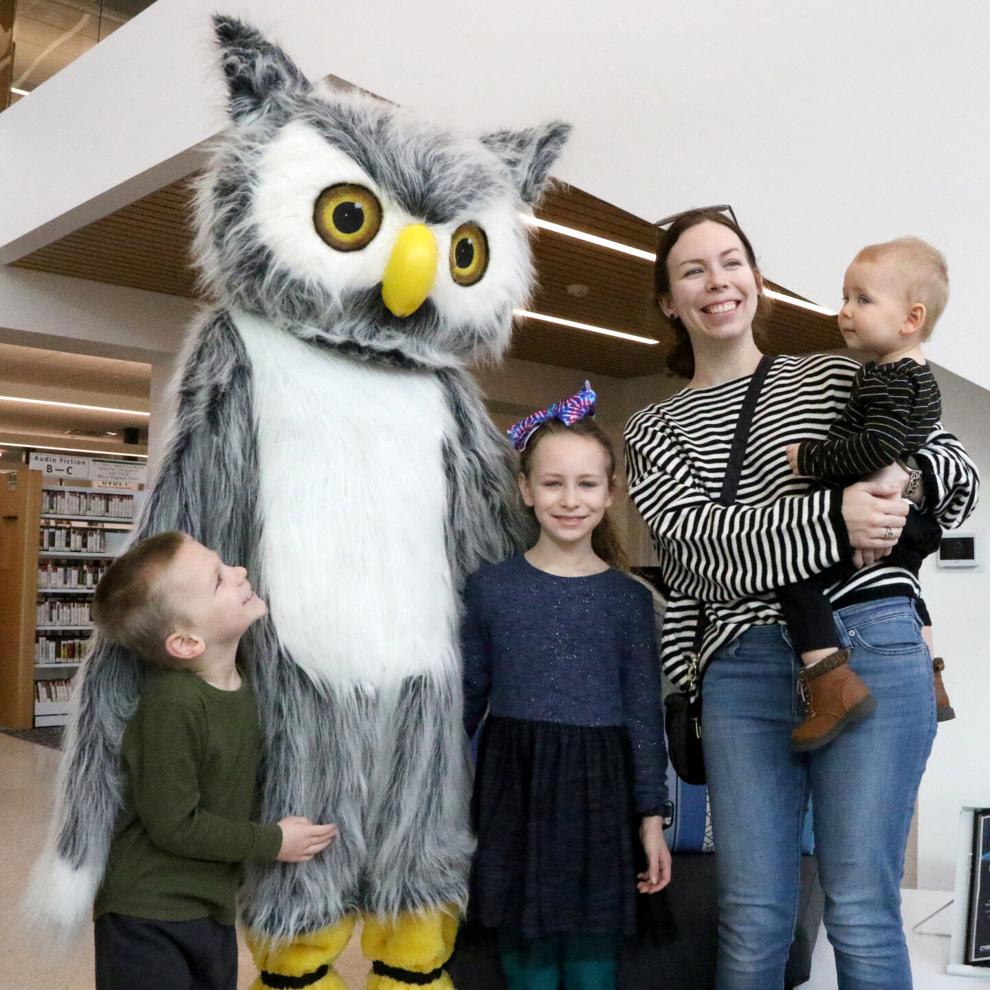 Elizabeth said she hopes 1,000 Books Before Kindergarten will pay off when Hazel begins school.
"We hope it keeps her right in line where she needs to be," Beers said. "We're not expecting her to be advanced by any means, but we want her to enjoy reading, and that way she can keep up with her classmates."
Beers is a traveling registered nurse and her husband, Gage, is assistant meat department manager at Fareway grocery store in Carroll. Elizabeth and Gage are originally from Osceola in south-central Iowa, and the family moved here in July from Monmouth, Illinois, where Gage also was assistant manager. Gage has worked with Fareway stores since he was 15.
Library Program Specialist Melissa Villy said, "500 Books Before Middle School is the next step in our reading challenges. It's to keep children reading through school and promote literacy throughout elementary school. … The point is not to just keep them reading and coming in but help foster a love of reading as they get older. A lot of times older children get out of the habit of reading after storytimes and they're independent readers and we're not reading to them. It's to help them to better read on their own and continue to read on their own."
Reading is a key to not only academic success, but also to success as a person and to society, Villy added.
Cindy Duhrkopf, area director of Partnerships 4 Families, was on hand Saturday to provide information about Dolly Parton's Imagination Library, recently offered for the first time in Carroll County.
Each month children who enroll receive an age-appropriate book delivered to their home until their fifth birthday.
Imagination Library is offered to children through collaboration with local affiliates. Partnerships 4 Families serves Audubon, Carroll, Greene and Guthrie counties.
Imagination Library requires that a local nonprofit oversees fundraising and enrollment of children in the program. Nonprofits must apply for the program and define their delivery area. Parternships 4 Families' Our Community Health Foundation applied and is offering to be the nonprofit that oversees the project in the four counties it serves.
A $20,000 grant from Partnerships 4 Families Early Childhood Iowa assisted in kicking off the project, but also is seeking community contributions to ensure success for years in the future.
Donations may be made online at ImaginationLibrary.com, or mail to Our Community Health Foundation, 2002 State St., Suite 1, Guthrie Center, IA 50115.
Cost to the Imagination Library to provide quality books monthly to children is $2.20 per month per child, which is $26.40 yearly and $132 to age 5.
Saturday's program also featured some special guests — library mascot Dr. Whoot and Save Our Avian Resources volunteer Cassie Wendl, who brought a live screech owl and barn owl. Alba, the screech owl, is about 8 years old, and Griffon, the barn owl, came to SOAR as an adult so could be anywhere from 3 to 17 years old, according to Wendl.
Tracy, the children's librarian, said everyone who attended Saturday's program appeared to have a good time and learned a lot about owls.
"The questions (about owls) kept coming," she noted. "I saw lots of smiles as kids left."
The library has scheduled a couple of upcoming events to help children enjoy their books even more by having a reading buddy. The library also will be offering two Reading Buddies camps — similar to the Build-a-Bear camps. In the Reading Buddies camps, participants will build a toy stuffed dog to take home. "Somebody to hug while they're being read to or the children are reading a book," Tracy said.
The workshops will be 10 a.m.-noon Saturdays, Feb. 18 and April 15. Participants will build a Labradoodle at the February camp and German shepherd in April. The Partnerships 4 Families grant also is supporting this activity.
A $1,775 grant from Partnerships 4 Families is supporting the library's children's literacy programs.