(Press Release) — The Saipan Chamber of Commerce is proud to announce the five Business Person of Year nominees for this year's Annual Gala Award: Joseph Guerrero (Naked Fish Bar & Grill), Dr. Nelson Krum (Paradise Dental Spa), John J. Santos (Triple J Saipan, Inc.), Emma Perez (500 Sails), and Nicole Babauta (Docomo Pacific).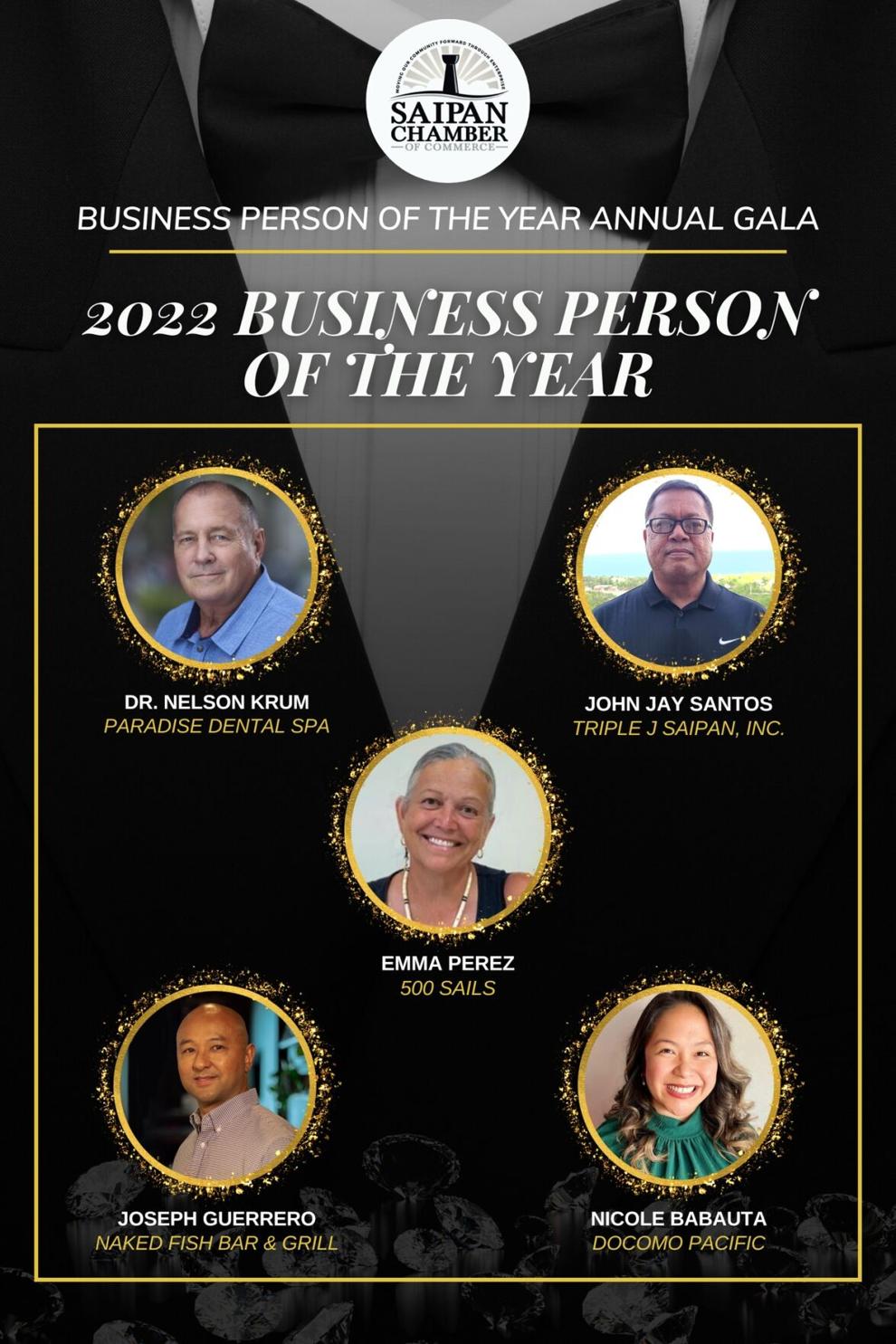 The nominees for Business Person of the Year are all active members of the chamber, gracious in their support of the community, and business leaders advocating for our economy and our enterprises.
• Joseph "Joe" C. Guerrero co-owns and operates Transcends, LLC, established since 2010, which does business as Naked Fish Bar & Grill, Hafa Adai Realty, and Transcends Consulting.
Guerrero has over 20 years of senior management, development, and consulting experience including, but not limited to, business development & consulting with TurnKey Solutions; international real estate finance and investment with Bridge Capital; restaurant & bar operations with Naked Fish Bar & Grill; corporate sales management with SaipanCell Communications; development of health care services; and auto dealership operations as vice president/general manager with Joeten Motor Company.
Prior to returning home to Saipan in 2001, Guerrero obtained a BA in Business Administration (emphasis in Real Estate) from Washington State University and an MBA from the University of Oregon.
No stranger to serving his community, Guerrero was appointed by the late Gov. Eloy S. Inos and served as chair of the Commonwealth Public Utilities Commission (2012-2015), leading oversight on rates and services of public utilities.
In addition to serving on various non-profit boards and volunteering with various organizations throughout the years, Guerrero most recently served on the board of the Northern Mariana Islands Crime Stoppers (2017-2022) and was a member of the CNMI Governor's Council of Economic Advisors  (2020-2022), serving on the Economic Diversification Committee and Small Business Development & Retention Committee.
Guerrero has been an active member of the Saipan Chamber of Commerce for over 20 years including serving as board vice president (2019-2021), and now as a third-term president and current co-chair of Government Relations Committee (2021-present), tasked with reviewing legislation and policies and making recommendations that promote business interests.
In 2022, in collaboration with the SCC, CNMI Small Business Development Center Network and GCEA, Guerrero initiated the development of the first-ever CNMI Small Business Survey, Roundtable, and Summit which aimed to improve the resources and support for all small businesses in the Marianas, including those historically underrepresented businesses owned and operated by Koreans, Filipinos, and Chinese.
In 2021, Guerrero, in collaboration with the SCC and the Marianas Visitors Authority, established the Hafa Adai & Tirow Pledge, a program that encourages all businesses, government agencies, and organizations to commit to promoting and preserving the indigenous Chamorro and Carolinian cultures of the Northern Mariana Islands.
Guerrero's ability to serve the business community is made possible with the support of his wife and business partner, Eleanor T. Cabrera, sons Christian and Ruben, and three boonie dogs, Buddy, Dori, and Badger.
• Dr. Nelson Krum, owner of Paradise Dental Spa, moved to Saipan in 2013 and has been a Chamber member since then and a Rotary Club member since 2014. Dr. Krum attended dental school at the University of Colorado School of Dentistry. He has been a dentist for over 40 years now and has gained positive feedback and recognitions from the former President Ronald Reagan acknowledging his dental volunteer service and has earned awards such as the Jefferson Institution Bronze Medal Award and the Nine Who Care Prospector Award for volunteerism by the 9News Denver Channel.
Dr. Nelson is no stranger to the CNMI community. He is a member of the Rotary Club of Saipan, Haggan Woong United for Recovery, the Northern Mariana Sports Association, the Blue Ribbon Consortium aimed at combating the drug problem in the CNMI, and the Pickleball Federation of the Northern Mariana Islands.
He has been married to Donna Krum for 32 years and is also known as "Dog Daddy" to eight boonie dogs, who can be found every evening grilling their dinner!
Fun fact: Dr. Krum and his wife, also known as, Dental Donna, brought Pickleball, the country's fastest growing sport, to Saipan in June 2020 and continue to fund the sports' expansion in the CNMI.
Nelson has the true gifts of Leadership, Administration & Giving. He excels at team building and building successful dental offices.
In addition, Dr. Krum is an author of fiction/international intrigue books and writes under the pen name of "Reginald Nelson." His written books include: Saudi Oil Gambit, Disaster at Bushehr,  Signals from Saipan, and is currently in the process of writing his fourth book. His books are available on www.Amazon.com/.
He spends his free time writing books, traveling, playing pickleball & rescuing boonie dogs.
• John "Jay" J. Santos  attended Santa Monica College in California. During that same time, he worked for Guam Cargo Consolidators in Los Angeles, California, where he was eventually promoted to station manager. He then worked for Eagle Freight Services, also in Los Angeles.
Jay moved to Saipan in 1994 and worked for Marianas Napa as general manager. In 1997, Jay joined Pacific Islands Club as the purchasing manager. Jay was appointed to be the director of Northern Marianas Customs Service in 2003, where he was responsible for customs services of Saipan, Tinian, and Rota, under the Babauta/Benavente administration.
Jay joined Triple J Saipan, Inc. in May 2006 as general manager for Hertz Rent a Car on Saipan, Tinian, and throughout Micronesia. Jay was also named general sales manager of Triple J Five Star Wholesale Foods in September 2007, and then was named director of human resources for Triple J Enterprises in 2009. He is currently the general manager for Triple J Five Star Wholesale Foods and Triple J Payless SuperFresh & Truckload Store.
Jay is married to Joyce Duenas Santos and they have four children: Aysia, Myles, Dylan and Aya. He is a former board of director for the Saipan Chamber of Commerce and former member of the Rotary Club of Saipan. Jay currently serves on the board of directors for the Make-A-Wish Foundation Guam & CNMI and the Saipan Baseball League, Inc. Jay coached youth football on Saipan for 10 years, competed in outrigger canoe paddling, and currently enjoys playing golf and mountain biking, whenever possible.
• In 2022 Emma Perez seemed to be everywhere. The co-founder of 500 Sails and the person behind the reinvented Marianas Association of Non-Governmental Organizations or MANGO was moving incredibly fast.
At 500 Sails, where she was board president, and also served as treasurer, and project controller, she conceived, planned, and implemented a series of strategic initiatives that prepared local workers for success in new jobs that she helped to create.
The initiatives were coming to fruition. At the 500 Sails Cultural Maritime Training Center, new U.S. Coast Guard certified training opened doors for aspiring mariners to get their 6-Pack and 100 Ton captain's licenses, Red Cross certified training brought the CNMI new lifeguards and swimming instructors, and new classes opened for those interested in sailing traditional canoes and learning traditional navigation from Carolinian Master Navigators.
All these initiatives feed into Emma's vision of an island community that has leveraged its historic connection and deep cultural affinity to the sea to build a thriving maritime community again —  only now in a modern context. They will lead to a maritime business sector that provides jobs that can support families, puts food on the table, supports our main industry of tourism through destination enhancement, and diversifies the economy.
At MANGO, where Emma served on the board of directors, was project controller, and became interim operations director, she implemented the business plan that she developed and found funding for through an Administration for Native Americans Social & Economic Development Strategy or SEDS 3-year development grant. The SEDS Lemmai-Mei project created a well-staffed and sustainable "Nonprofit Incubator" that helps CNMI nonprofit succeed through business training seminars and customized capacity development plans for individual nonprofit organizations. MANGO also offers business services to nonprofits that allow them to focus on their core mission, leading to more and better services for the CNMI public.
• Nicole Babauta joined Docomo Pacific CNMI in July 2021 as consumer sales manager overseeing the consumer business unit for the entire CNMI. In her prior role, she served as the administrator for the CNMI Small Business Development Center where her performance has been recognized U.S.-wide through her winning of the 2018 America's Small Business Development Center State Award and the 2019 Saipan Young Professional of the Year Award.
Nicole is a graduate of the University of Phoenix with a Bachelor of Science Degree in Business Management with a concentration on Global Business Management and a Master of Business Administration Degree. In 2022, she earned her SHRM-CP designation.
She dedicates herself to the community by serving as a board member for the CNMI State Workforce Board, Society for Human Resource Management CNMI Chapter, and the Saipan Chamber of Commerce.
Nicole is a graduate of the 2020 Executive Leadership Development Program and the 2020 Pacific Century Fellowship Program.
In addition, the Chamber is also proud to announce the nominees for the following awards:
• 2022 Non-Profit of the Year
1) Marianas Alliance of Non-Governmental Organizations or MANGO
2) Pickleball Federation of the Northern Mariana Islands c.   Kagman Isla Community Health Center
• 2022 Start-Up of the Year a.   BistroBoyz670
1) Bonitu Basula
2)   Next Level Thrift & Consignment Shop
• 2022 Small Business of the Year a.   The Angry Penne
1) Paradise Dental Spa
2) 360 Enterprises, Inc. dba 360 Revolving Restaurant
• 2022 Chamber Member of the Year
1) Northern Marianas College
2) Marianas Alliance of Non-Governmental Organizations or MANGO
3) Docomo Pacific
The winners of the Gala Awards will be voted on by the Saipan Chamber of Commerce membership official representatives.
The BPOY gala serves as the SCC's largest annual fundraiser for its programming. Activities such as the scholarship program, online seminars, workforce development training, small business support, and more to benefit its membership and local community. In addition, the event honors past Business Person of the Year recipients, current nominees, and the SCC board of directors. Additionally, the event celebrates the installation of the 2023 board of directors.
For more information, email contactus@saipanchamber.org  or call (670) 234-7150.